Giniversity Christmas Gin 40% (500ml)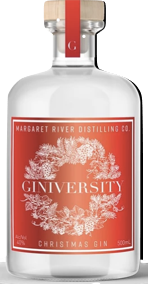 Giniversity
Margaret River
Christmas Gin
An Australian Christmas is unlike any other.It is best spent soaking in the sun, dipping into salty water, enjoying the company of family and friends and sipping on a fine refreshing beverage (no different to Mauritius!).
Margaret River Distilling Company have delivered another cracker Christmas gin to keep the merry spirits souring through the festive season.
Pronounced botanicals include juniper, quandong and summer fruits, including fig, apple and berries, with a backing of citrus.
Mixology
Serve Christmas gin over ice with a slice of dehydrated orange and spice (e.g. cinnamon, clove) for an extra splash of that Christmas season flavour.  If you love a longer drink, add Capi Flamin' Ginger and Capi Cranberry for an extra burst of Christmas flavour.
You may also like